Barb St. John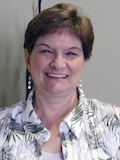 Customer Service for Printing
printshop@weaverassociatesinc.com
Education:
Lewistown Area High School
Bachelor and Master's Degrees in Education from Millersville University
Job Description:
I help in the print shop with customer service and coordination of print services.
Employment:
I spent 32 years in the field of education. Recently, I made the choice to leave teaching and explore other career options. I crossed paths with Ron Weaver and am grateful that he brought me on board. I'm excited to be a new member of the Weaver Associates Team and am enjoying the new challenges of working in print services!
Personal:
I've lived in Lancaster County since 1984. I enjoy spending time with my daughter, Kelly, and our dog, Bear. In my spare time, I enjoy scrap booking, crocheting, reading, kayaking, camping, and spending time with family and friends.