The Print Shop

From a simple brochure to a professional annual report and everything in between, we're your local printshop that's ready to get your next print project completed on time and on budget. Professionalism, attention to detail, quick turn around times and affordable prices are what you can expect when you work with us. If you can't find exactly what you're looking for in our printing section, call us and we'll do everything in our power to get you what you need.
Hardware and Services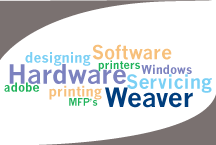 We sell name brand printers and MFP's. Not only do we sell, but we also service. We are the only print shop around that offers free services when you buy our toner! If you are interested in buying a new printer at an affordable cost call (717) 394-5009 and ask to talk to a salesperson. Our employees are here to help you find exactly what you are looking for.
Delivery Services
Ed is our friendly delivery man. He will deliver all of your special orders with a two day turn around time. All you have to do is order and we will take care of the rest!