Chris Pitera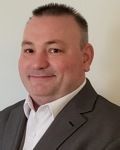 Technical Sales
IBM Certified Specialist
Education
B.A., Rutgers University, Newark, NJ.
Job Description
I am "Old School" when it comes to sales and service. I take pride in providing our customers with sound advice and excellent technical support.
How WAI Employment Began
Originally joined Weaver Associates, Inc. in the Fall of 2007. Ron sat me down, I made a bunch of sales calls, and the rest is history…
Technology Experience
I guess you could say it's in my blood… my Dad was an IBM programmer. My first computer was an ATARI 800XL. I have worked on all sides of the IT industry since 1998. In my early years, I was a software trainer, but I have served in a mix of pre-sales and technical roles ever since.
Personal
My lovely wife, Doreen, and I have been married for over 20 years. We have lived in Lancaster County since 2001. We are both animal lovers, and we enjoy camping and traveling to famous historical sites. I am an avid chess player, and a student of military history and tactics.