Bob Finkbiner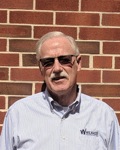 IBM AS400 &
Printer Technician
Education:
Hempfield H.S. – 1973
Electronic Institutes (Harrisburg) – 1975 (Asscociate Degree)
Job Description:
IBM AS400 & Printer technician
Responsibility of hardware maintenance support on IBM AS400 systems, either on Weaver Assoc. maintenance contract or Time & Material. Provide customers software maintenance support with installation & upgrade of IBM AS400 operating system and PTF releases. Printer maintenance of Impact printers, Thermal Label printers, & Laser printers of many different manufacturers in the IT printing market.
Prior Experience:
My support knowledge with IBM AS400 systems and printers was gained by my previous 11 years employment with ProSolutions Inc. I also spent 26 years with DecisionOne / Decision Data, starting back in 1976, servicing data processing card punch machines and progressing forward in computer technology.
Personal:
I am married to my lovely wife Robbin, for 39 years. We have 2 married daughters and 5 grandchildren. I have played, coached and refereed soccer for 30+ years, and now I enjoy sitting as a grandparent spectator watching my grandchildren play the sport. My other activities I enjoy, are landscaping/building projects around the house, this is great stress relief. For relaxation fishing on a lake in my 14' boat and just watching nature is great peace and solitude regardless of catching any fish, which seldom occurs.