Claudia Bubba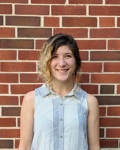 Graphic Design/Print
claudia@weaverassociatesinc.com
Education
I Graduated Bangor Area High School in 2013 and just recently graduated from Millersville University with a Bachelor of Science degree in the fall of 2017. I studied Applied Engineering and Technology Management with a focus in Graphic Communication Technology. I am a certified ATMAE Technology Manager.
Job Description
I started at Weaver Associates as a summer intern over the summer of 2017. Apparently they liked me, because I now work here full time. I work in the print shop estimating jobs and doing design and marketing.
Personal
I moved to Lancaster 5 years ago, when I started at Millersville University, and I now live here with my loving puppy Peppercorn. I enjoy going on adventures and splashing in puddles with my puppy as well as crocheting.