Danielle Maze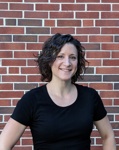 Operations Manager/Purchasing
danielle@weaverassociatesinc.com
Education:
High School Diploma from the prestigious Garden Spot High School.
Job Description:
I am the purchasing representative for Weaver Associates. If you need it, I will order it, invoice it, and send Ed on his way to deliver it. I am also the customer service lady, who is here to help with all your toner troubles.
Prior Experience:
I have many, many years of experience in the Customer Service arena, including Real Estate and Insurance sales. I have made it my life's mission to excel in customer service and making people happy.
Personal:
Outside of work, I enjoy going to Universal Athletic Club to relieve the stress of my day. Ordering toner can be very stressful! I am married to an amazing man, Steve, and we are the parents to one furry kid/crazy cat Coby. Together we thoroughly enjoy camping, fishing, and our yearly trek to West Ocean City Maryland, and Assateague Island National Seashore. We are also the extremely proud aunt and uncle to 15, yes, 15, nieces and nephews. They light up my life with their adventures of surfing, skateboarding, four-wheeling, singing, guitar playing, computer programming, chicken egg collecting, mice hunting, horse keeping, things they are involved with. There is never a dull moment with our families, and I wouldn't change it for the world.